Started

:

~Unrecorded~

Finished

:

January 26th, 2003 / 3:45

Base

:

Jungle Attack Poison Ivy
(Movie Line)

Parts

:

Head of Nefetina
(Mummies Alive Line)

Materials

:

Revell Colors, "Das Pronto", Hot
Glue,"Marabu" laque, Plastic box

:

December 2003

Character & Intent
I can hear you. You claim "But Creature...
'Buzz Lightyear of Star Command' is a
kiddy show by Disney".
Bla Bla Bla... I already wrote what I
had to say about the series on the page
for XR.
Allow me to use some of my slim voca-
bulary on the the Mira Nova character.
Most likely Mira Nova wouldn't be very
interesting if it wasn't for the intriguing voice
work of "Mad TV" staff member Nicole
Sullivan who really flexes some acting
muscles here. Her contribution allowed
the writers to add some very fine nuances
to character - Straight to the point where
you get a pretty good concept of what
Mira would and wouldn't do or say.
Fans of Marvel Comics will recocnize
the color scheme of Mystique and the
powers of Shadowcat (on an extended
level). Fans of character development will
recocnize things like a fiery temper, some
femininty, a learning curve in the explora-
tion of her tangean powers and the tenden-
cy to tell bad jokes and be the only one
who laughes about them.
All in all, they really fleshed her out as much
as possible within the limits of the medium
(and corporate policy).
---
---
---
Creation
It all started out with a Jungle Attack poison Ivy
that I really couldn't do much with. That was until
I realized how much her build and pose would fit
the likeness of this certain Tangean princess...
The biggest problem with this base where
the embossed plant decors that covered most
of the body. It required a lot of careful dremeling
to get rid of those. In fact, I applied the first layer
of white before I saw that I hadn't really gotten rid
of all the embossments. Consequently, a
complete layer of white revell color and a
vast lot of paint thinner was wasted.
The head original head was another thing
that just had to go. Mira Nova doesn't
even look remotely like Uma Thurman,
let alone a really sleep-deprived, PMSing
Uma Thurman. (Which was what this mold
resembled)
The Chest Armor was obviously done with
Das Pronto. The only part of it that was not
completly sculpted by hand were the shoulders
which are based on some plastic strips that were
cut out of some plastic packing material (I think it
originaly contained a video game pad) and hot-
glued to the base. This sentence was too long...
It took me a whole night to get the surface of the
armor as smooth as I intended it to be...
And it still didn't turn out 100% correct.
After painting the black stomach portion....
The damn thing just stood around. It was
lacking a head. It was a Mummies Alive
Nefetina that finally ended the Sleepy
Hollow livestyle of this custom after
weeks of mindless waiting.
On paper, it was perfect: Both figures
had been produced by Hasbro, same
scale, same type of attachment... And
yet, something seemed wrong. The head
looked too small for the body. Upon
comparing the head with PMS-Power
Uma I found out that this one had a
way flatter forehead and hairstyle.
Seemed logical, seeing as the process
of mummification involves removal
of the brain. However, this brought
another crapload of work upon me.
Strains of hair were cut (and preserved
for possible future uses), the forehead and
hairstyle were resculpted (partially using
a negative mold that I had wisely taken
of the original beforehand) and finally
paint was applied. Two times, because
the first paintjob was just awful.
The head was then finally brought into place
using some hot glue. The long hair disabled
any neck articulation, anyway.
The last part of this custom that needed sculpting
were the feet. Besides the "fact" that a Star Com-
mand uniform doesn't include high heels, all the
upper body modifications had brought her major-
ly off-balance. As a result, the feet now look a
bit clunky, but that's the price one has to pay
for customs that don't surrender to gravity
at any given chance.
Finally, the green belt and ornaments were
simply painted on while the the Star Com-
mand symbol on the chest was printed out
and glued into place before applying the
final layer of clear laque.
Although it is far from perfect, I am pretty
proud of this custom. Probably due to the
amount of work, time and dedication
that went into it.
---
---
---
~~REWORKING~~

Since this custom had suffered from time,
a misfortunate layer of sprayed finish (for
some reason, white revell paint doe never
go to well with belton vision matte laque....)
and didn't fully fit in with the rest of this line
anymore (See Buzz and Booster), Mira was
in dire need of a rework.

Of course that had to start out by sanding off
all the cracks and blisters the paint had developed.
Another thing I meant to fix for a long time was the
ugly gap between the base of her head and her neck.
That was relatively easy to fix, stuffing a little clay into
the gap was all it required.

Some elements her attire were missing were the left
chest button (Who laughed there ?) and her belt buckle.
Both were carved out of an old eraser with my stealthy
knife. I also elevated some of the lines on her costume
with some isolation tape and finally re-did most of the
paint job. No, let me put more emphasis on that.
I RE-DID THE ENTIRE FREAKING PAINT.
There, better.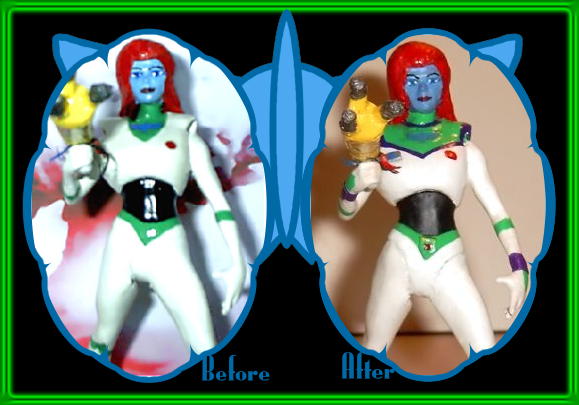 /~~Hornet Gunarm Accessory ~~\
Startet

:

February 2nd, 2003

Finished

:

February 3rd, 2003

Base

:

2 AL's

Parts

:

None

Materials

:

Al's, Kids Dough Clay,
Revell colors, Hot Glue,
Clear Laque.
Character & Intent
I guess I may have to explain this one
a bit... "Hornets" are the mindless
robot drones the the Evil Emperor Zurg
uses in the series. Hardly more than moving
targets, these things come in dozens and leave
in pieces. Their arms include built-in energy
weapons and are often misused as riffles by
the core characters of the series. Of course
this makes those arms a pretty obvious choice
for an accessory.
Creation
This was another time where those ALs prove incre-
dibly useful. Since the rounded tips fit into the hands
of the Poison Ivy base like they had been intended
to do so, I just had to cut the tip off of an AL, glue
the rest to side of it, and cover the result with some
easy-to-sculpt Kids Dough Clay. The fingers also
started off as AL tips, cut into seperate pieces and
glued back together to get the shape right.
The wires hanging from the base are nothing more
than some hot glue with paint on it. In order to get
strings like that, I just had to let a drop of this stuff
cool down a moment and then twirl it around my
finger. Voila, string.
A standard paintjob and the usual layer of laque
completed this accessory. Simple, yet matching
the desired result.